On Tuesday, members of the US Navy, including former Nicolet student Daphne Buenning '18, attended our monthly staff meeting to surprise Math teacher Mary Owen with an award for her years of dedication & service to the education profession, & for helping to prepare the next generation of leaders in the armed forces. Congratulations, Ms. Owen!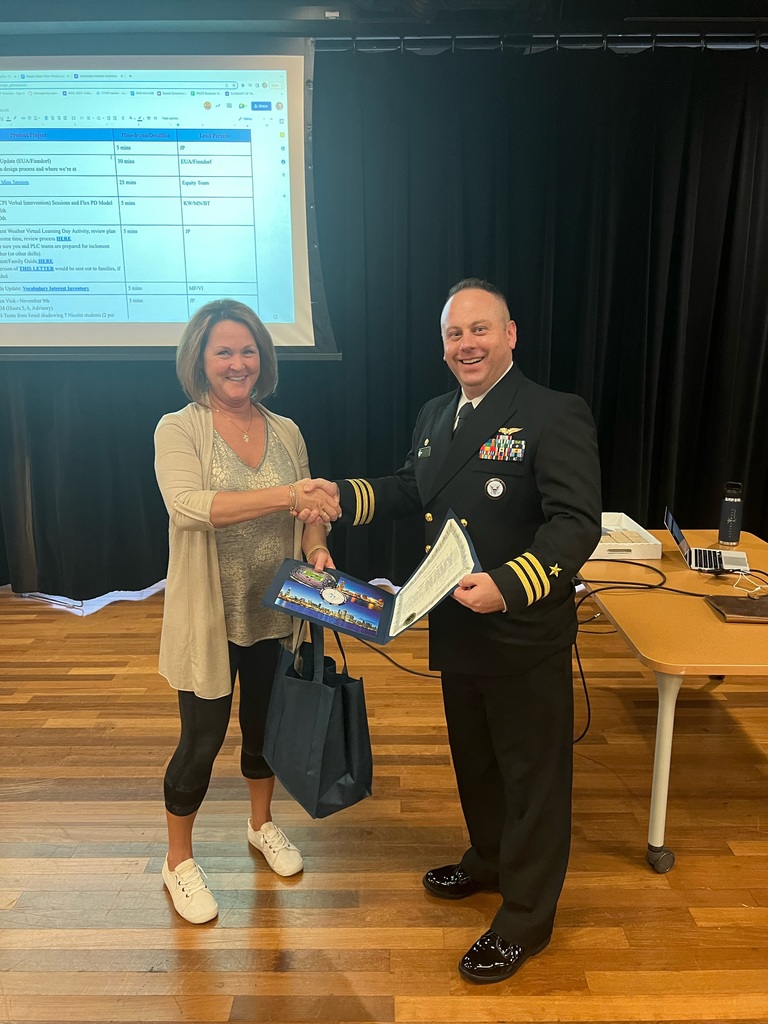 On October 26th, the Nicolet Choir Department hosted area partner schools for our 2nd annual North Shore Vocal Arts Day featuring the world famous Yale Whiffenpoofs including alum Ben Kramer '19. It was a day of singing workshops, rehearsal, and activities and ended in a wonderful performance with North Shore Schools and the Yale Whiffenpoofs!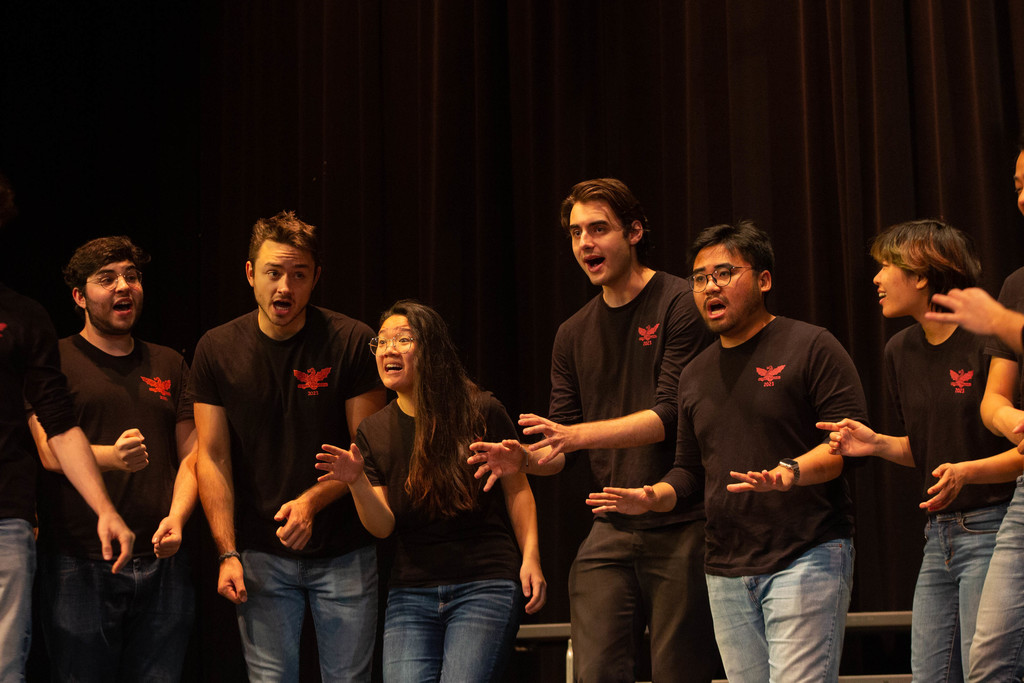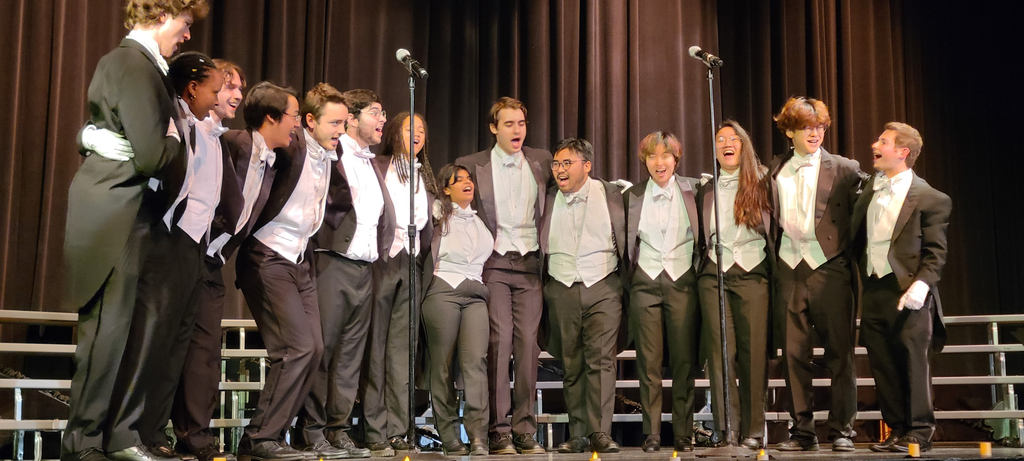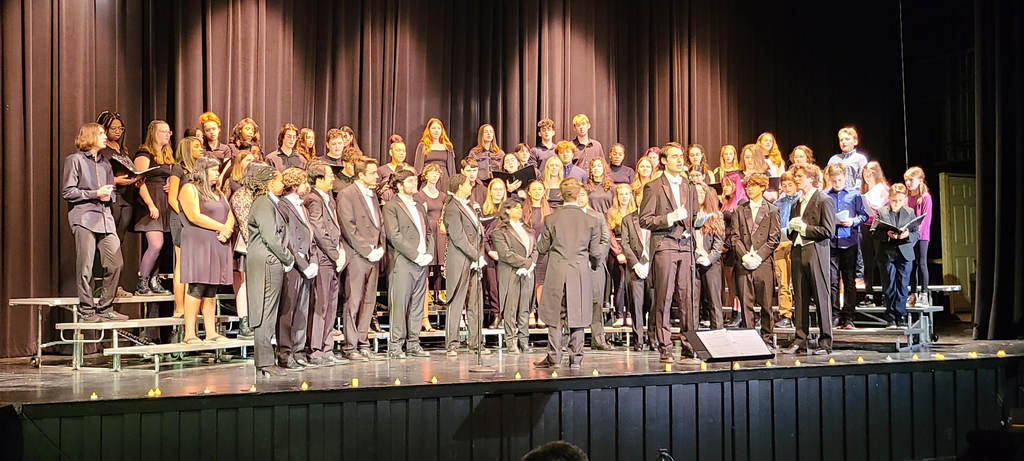 Parent Teacher Conferences are tonight. If you were a parent of the first students at Nicolet you would be having conferences with these faculty members.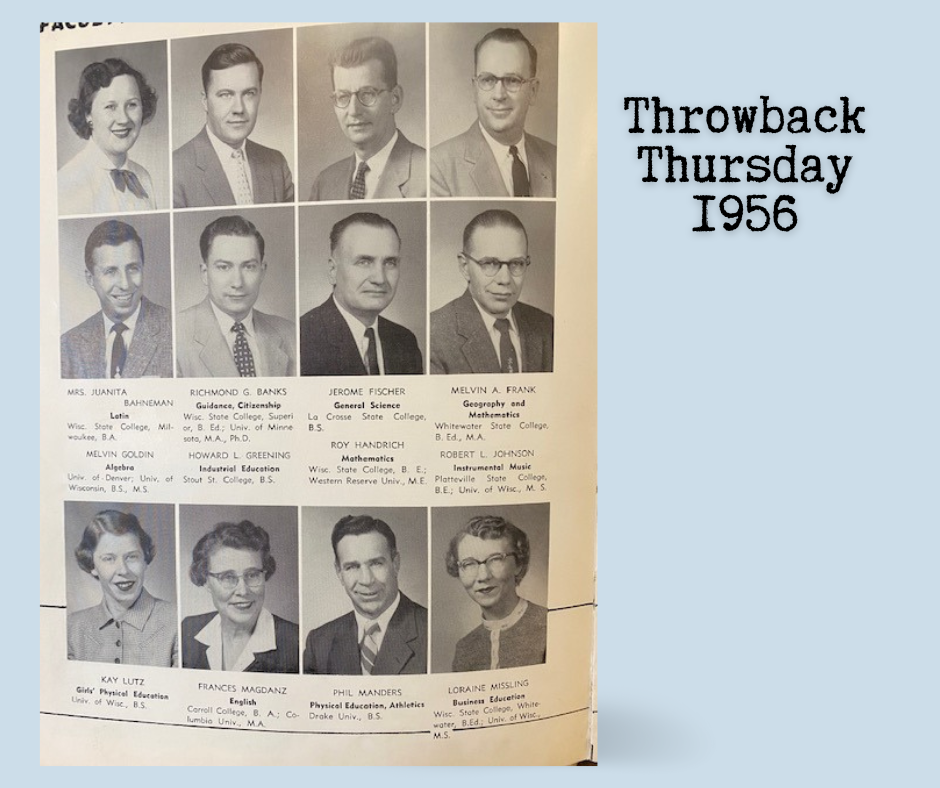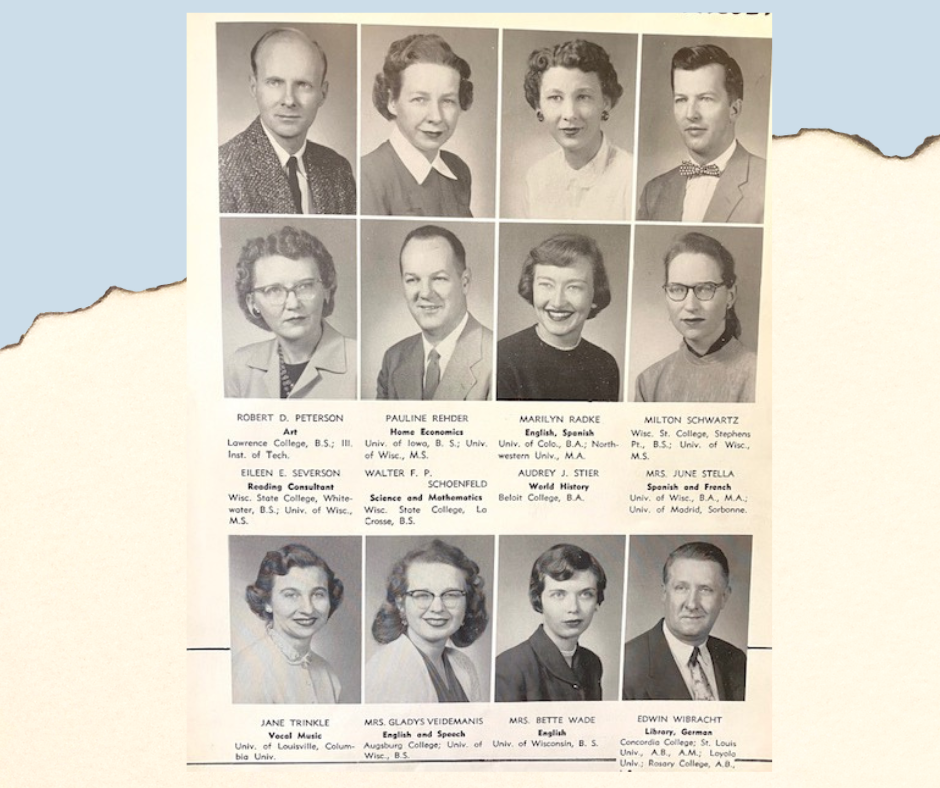 The theater department will be presenting their fall play November 11-13. The play, Clue, is based on the iconic 1985 Paramount movie which was inspired by the classic Hasbro board game. Clue is a hilarious farce-meets-murder mystery. Six guests are invited to a dinner party thrown by an anonymous host. They are given aliases--Colonel Mustard, Mrs. White, Mr. Green, Mrs. Peacock, Professor Plum, and Miss Scarlet. Though discouraged from revealing personal information, it is soon discovered that all of them have fallen victim to the same blackmailer, their very host of the evening. Each is presented with a weapon and an option: pay their extortionist double, or kill the innocent butler. What follows is a madcap, slapstick evening full of murder, mystery, and laughs as they seek to puzzle out the culprit amongst criminals. Clue is the comedy whodunit that will leave both cult-fans and newcomers in stitches as they try to figure out…WHO did it, WHERE, and with WHAT! Tickets are available on line here:
https://www.vancoevents.com/us/events/landing?eid=25469&
or at the door.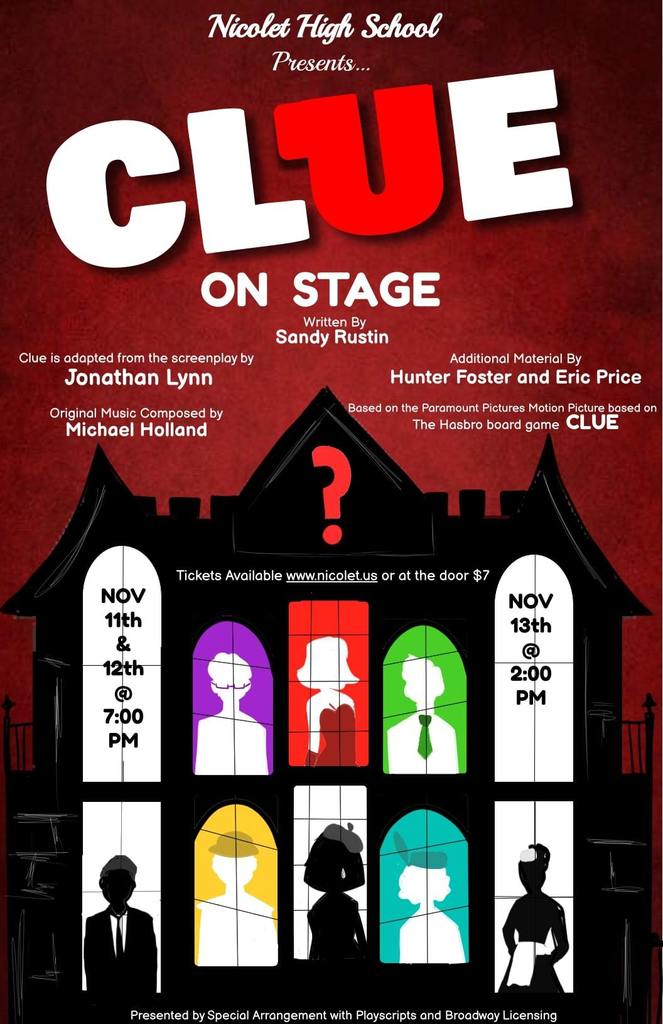 Congrats to the Nicolet Boys Soccer team for capturing the WIAA Regional Championship❗ Next up is the WIAA Sectional Semifinal vs. Cedarburg on Thu - 10/27 ⚽ All spectators must purchase tickets on the GoFan site ⤵
https://gofan.co/app/school/WI19475
No CASH will be accepted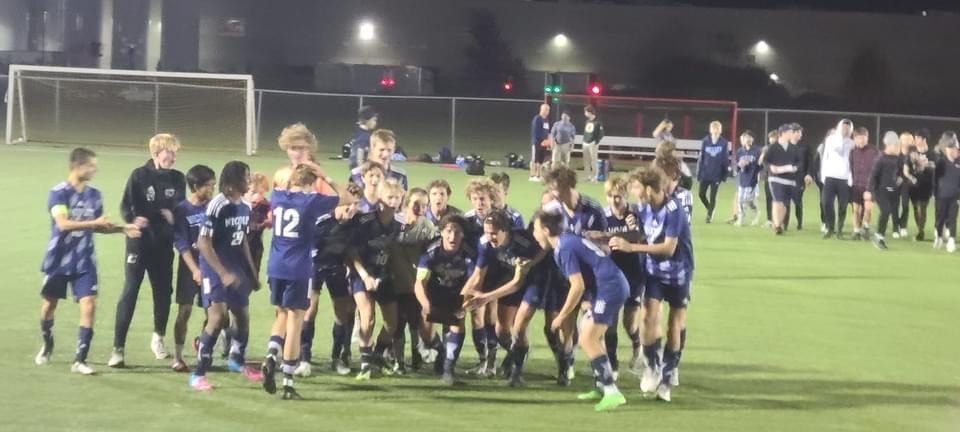 Melissa Hills, Michele Martinez, Michele Van Bibber and a group of students travelled to Greenfield High School, along with other area schools, to attend a Leadership Conference through the Boomerang Link Leader Program. Our Link Leaders help to guide and assist our freshman class throughout the year helping host Freshman Orientation and continuing to lead through advisory lessons. This group was chosen to enhance their current leadership and communication skills and will share their take-aways from the training with our student body!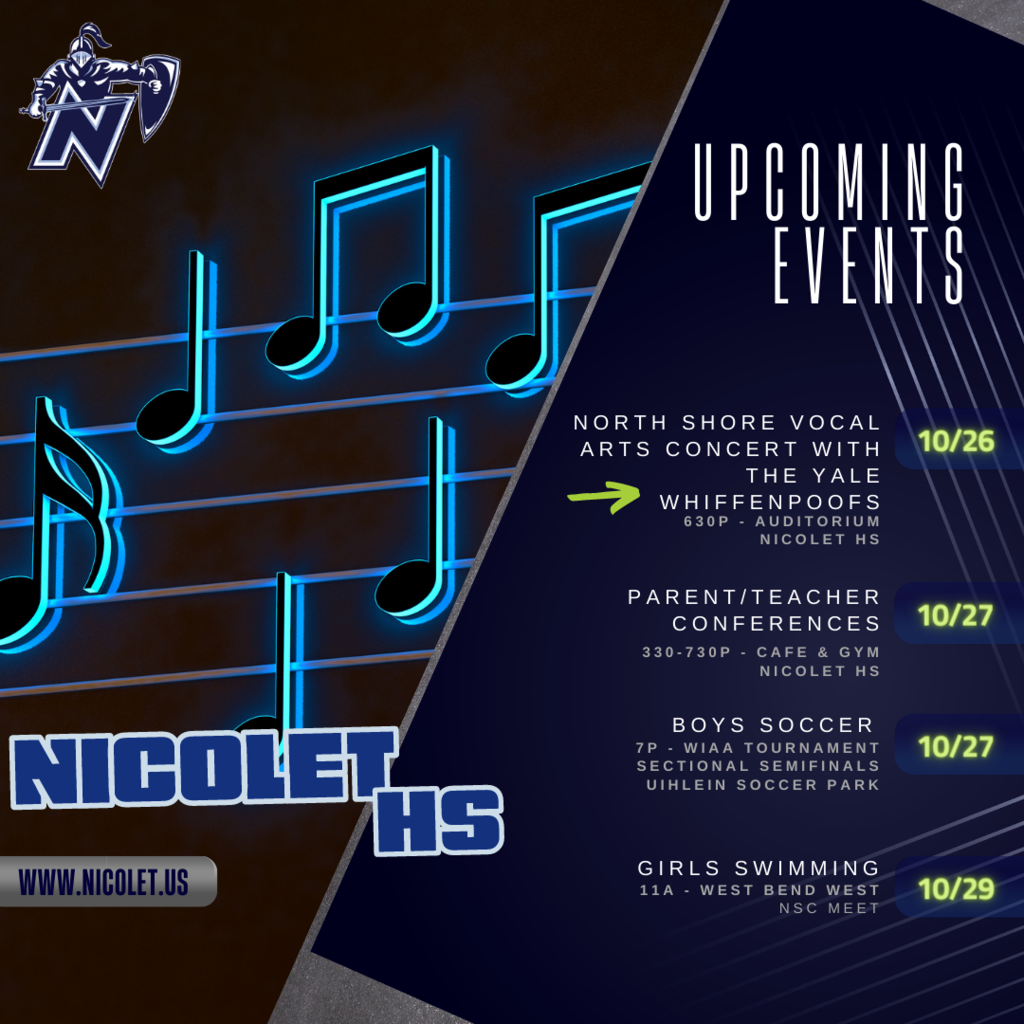 Yesterday was Cultural Heritage Day, a themed school "spirit" day hosted by Asian and Pacific Islander Club and Black Student Union, where students and staff from all cultures and backgrounds were invited to celebrate their identity.

Here's the answer to today's Trivia Question: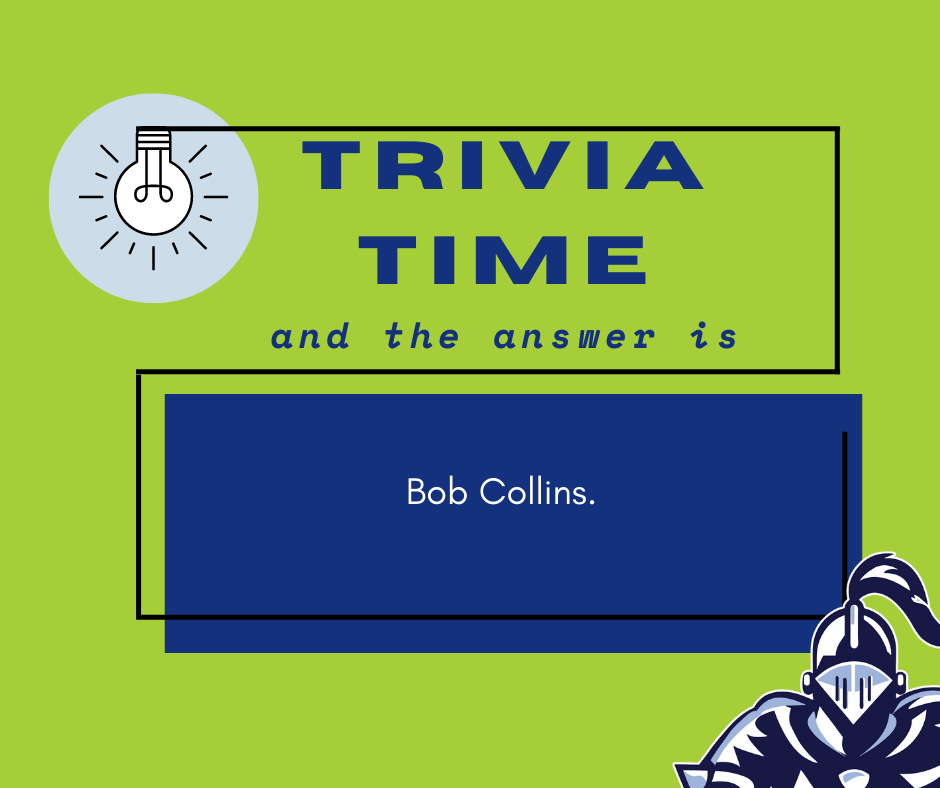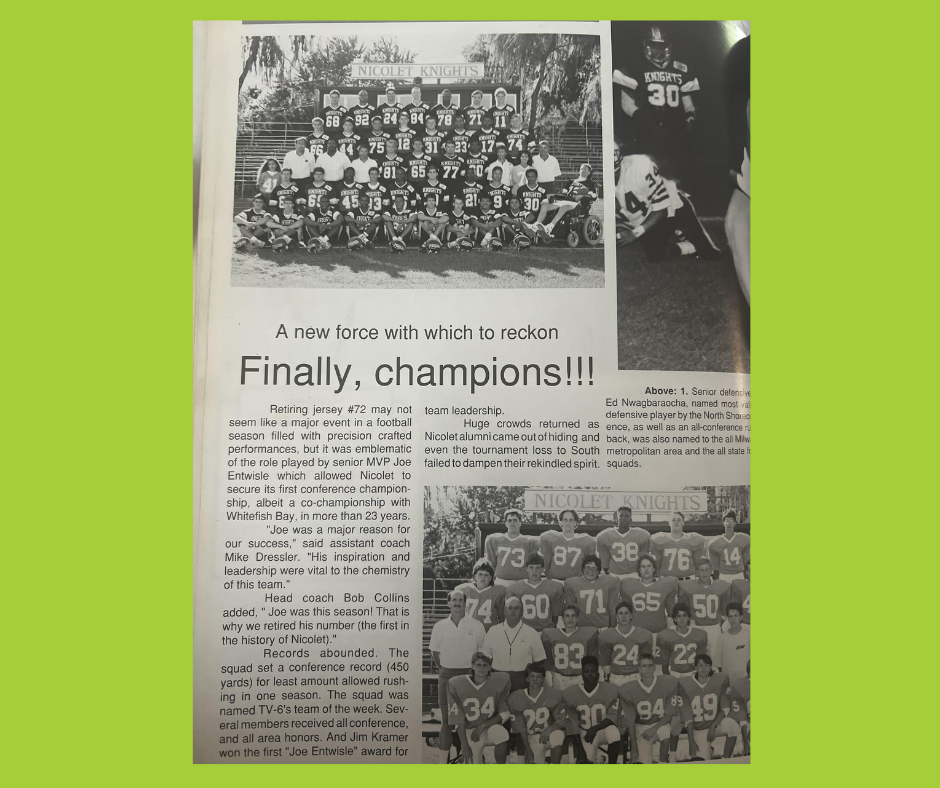 On October 26th, Nicolet will be hosting area partner schools for their 2nd annual North Shore Vocal Arts Day. They will have the world famous Yale Whiffenpoofs here with us for performances and clinics. It will be a day of singing workshops, rehearsal, and activities. The day will conclude with a concert in the evening at 6:30 in The Nicolet Auditorium. Join us for the concert 🎶

It's Trivia Time and the question for today is: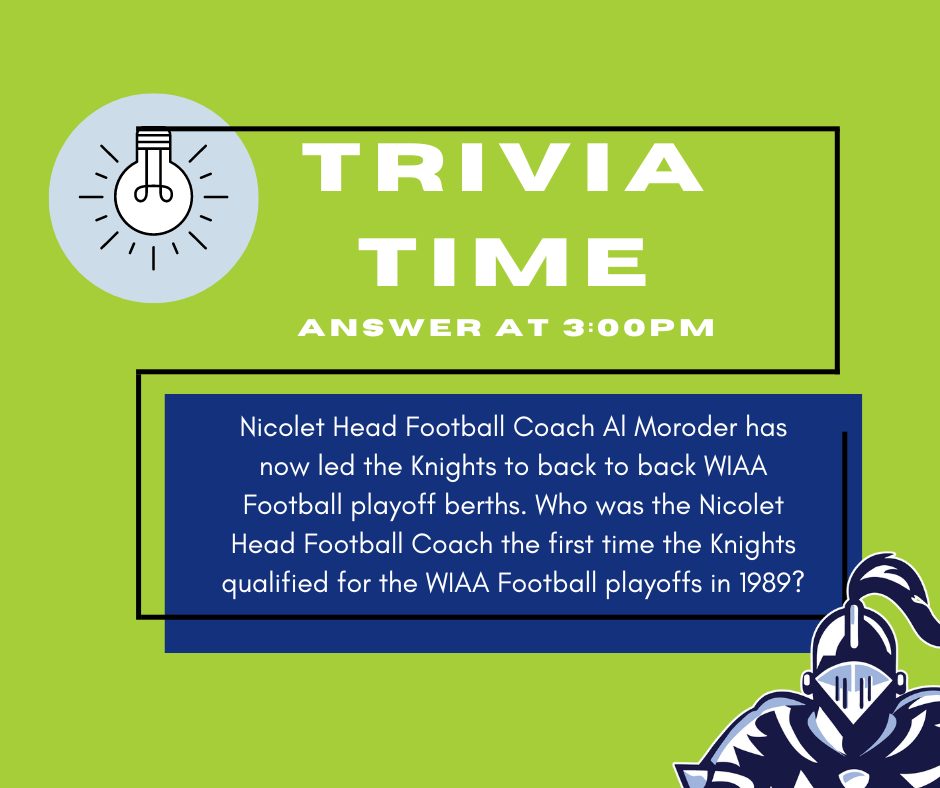 Nicolet Union High School is proud to announce our National Merit Semifinalists. These students are in the top third of the 50,000 high scorers on the PSAT/NMSQT. These students are eligible to advance to the Finalist standing. Congratulations also goes out to Noah Bernstein, April Hellmann, Jacob Katz, Adrienne Lee and Daniel Ramirez for achieving Commended status.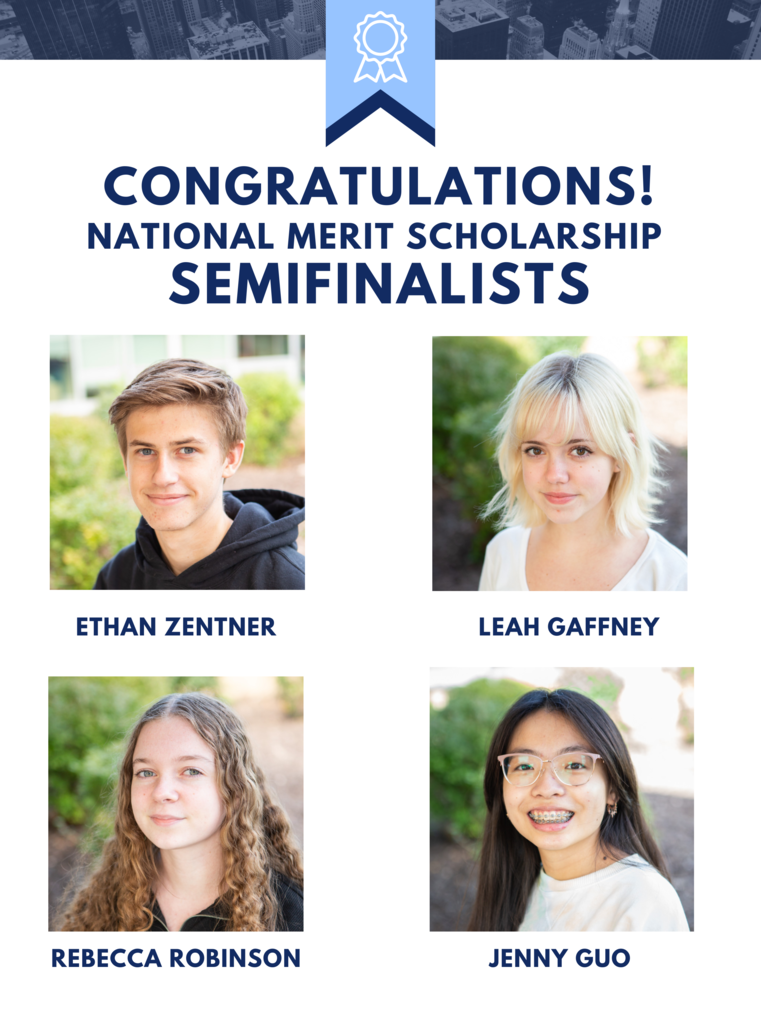 The Nicolet Recreation Department invites you to the 15th Annual Autumn Artisan's Fair on Saturday, November 5th from 10:00am - 4:00pm at Nicolet High School in the cafeteria 🍂 The event will showcase over 30 vendors from southeastern Wisconsin! Items that vendors will be selling include sweater mittens, beeswax candles, glass art and much more! The event will feature a silent auction of some of the vendors' work with proceeds benefiting the Nicolet special education department. Admission price is $3.00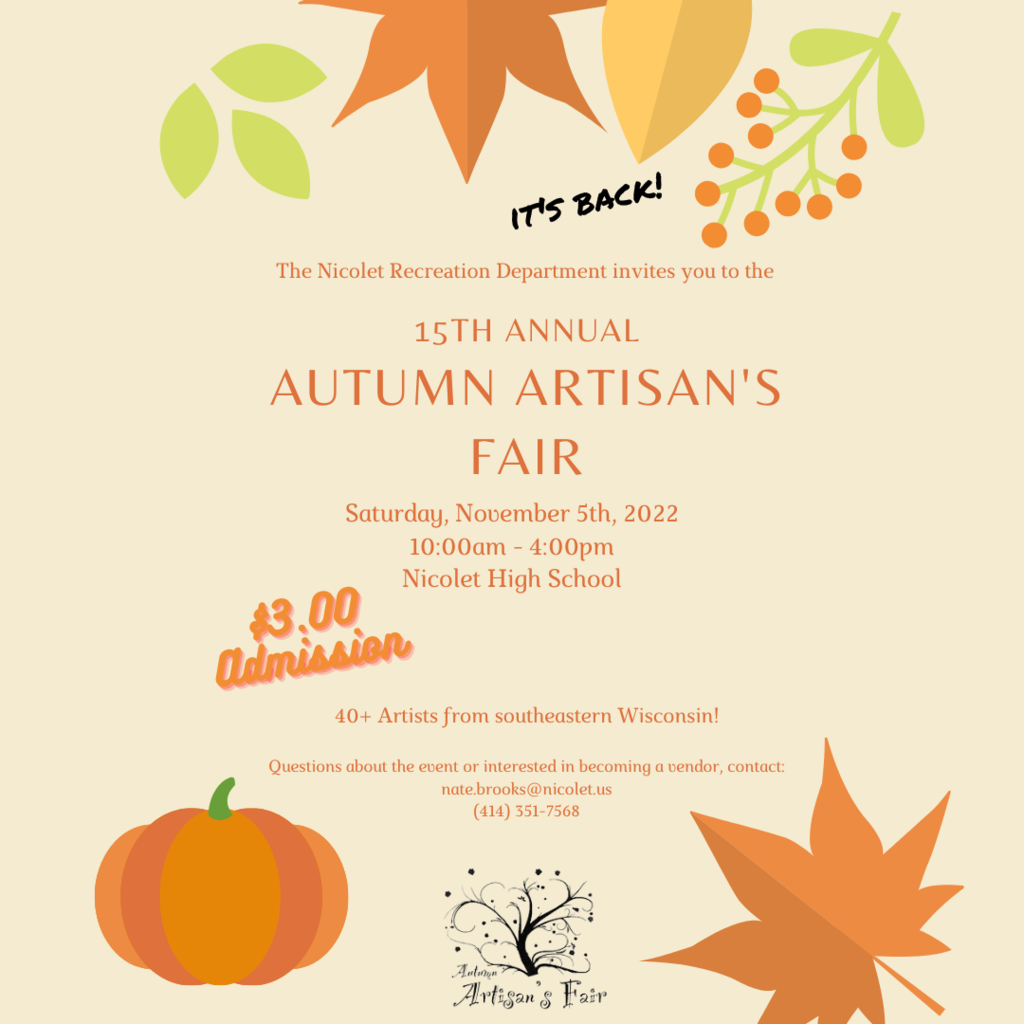 The Nicolet Football team has qualified for the WIAA playoffs 🏈 The Knights will play at Hartford on Friday, October 21st - 7pm Here's how you can purchase your playoff tickets ⤵ TICKET POLICY: Advanced purchase, Credit/Debit Card, & Apple Pay Payments Only. No cash will be accepted. No Passes of any kind are allowed for WIAA Playoff Events WIAA Regional Ticket Price - $6.00 per person + $1.30 convenience fee per ticket. Fans can purchase tickets online through Hartford's GoFan page (
https://gofan.co/app/school/WI13616
) or by presenting a debit/credit card (or Apple Pay) at the ticket gate. Purchasing tickets online, allows fans to easily access and share tickets (email or text) without standing in line. Fans are encouraged to purchase their tickets online prior to reaching the facility. Once you purchase your ticket online, you will get an order confirmation, which will also be emailed to the email address you provide/have on file. Pay attention to the Important Information shown on the confirmation screen! 1. Prior to arriving at the gate, access your confirmation email and click on the "VIEW MY TICKET" ticket on your mobile device. 2. Show your mobile device to gate personnel, who will validate your ticket for admission. 3. DO NOT validate your ticket prior to arriving at the gate. A Hartford Event Staff member will validate your ticket. IF YOU VALIDATE YOUR TICKET IN ADVANCE, YOU WILL NEED TO PURCHASE ANOTHER TICKET. 4. Tickets CANNOT be printed. You must use your mobile device to access your ticket(s) If you do not purchase your tickets in advance, you will be able to purchase them WITH A CREDIT/DEBIT CARD (or Apple Pay) at the event.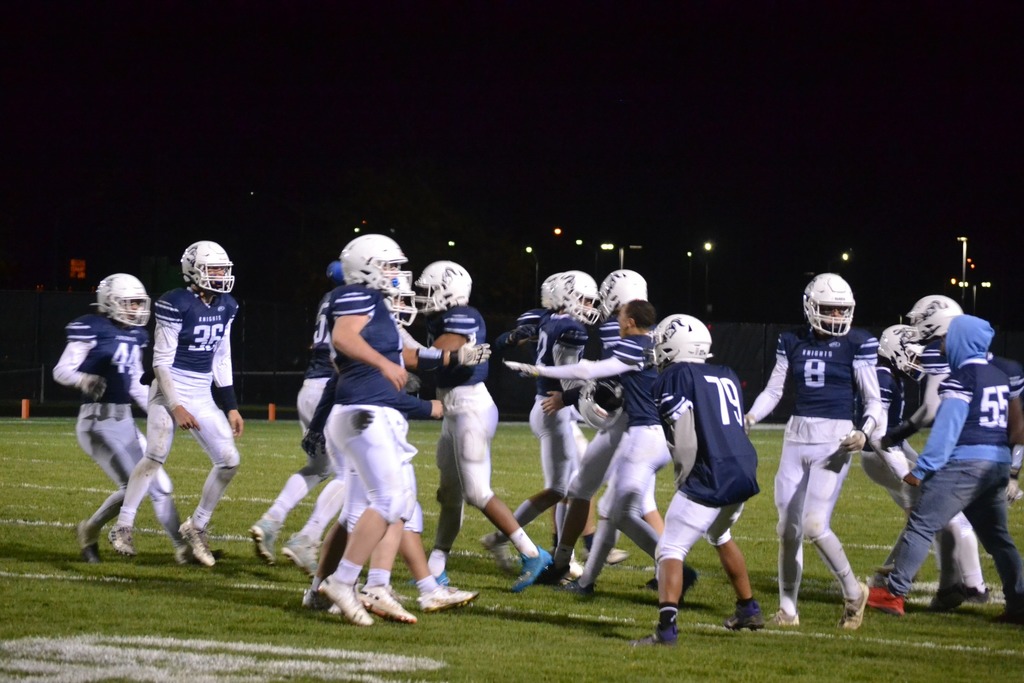 Congratulations to the following Nicolet cross country student-athletes who earned North Shore All-Conference honors ⤵ 🏃‍♀️ Reese Anderson (2nd team All-Conference) 🏃‍♂️ Francisco Rosas Sarmiento (Honorable Mention All-Conference) Both the girls & boys cross country teams will be competing in the WIAA Sectionals this Saturday. Good luck 💨 #KnightNation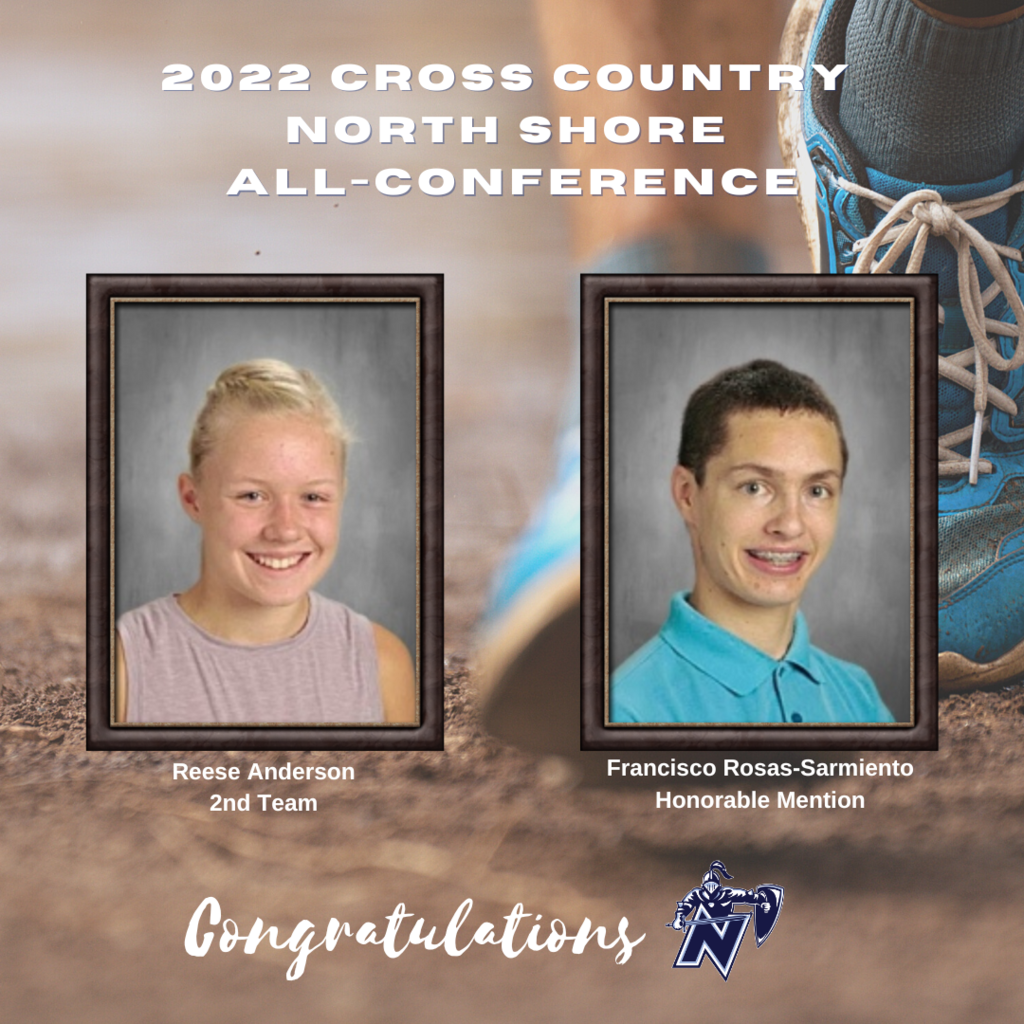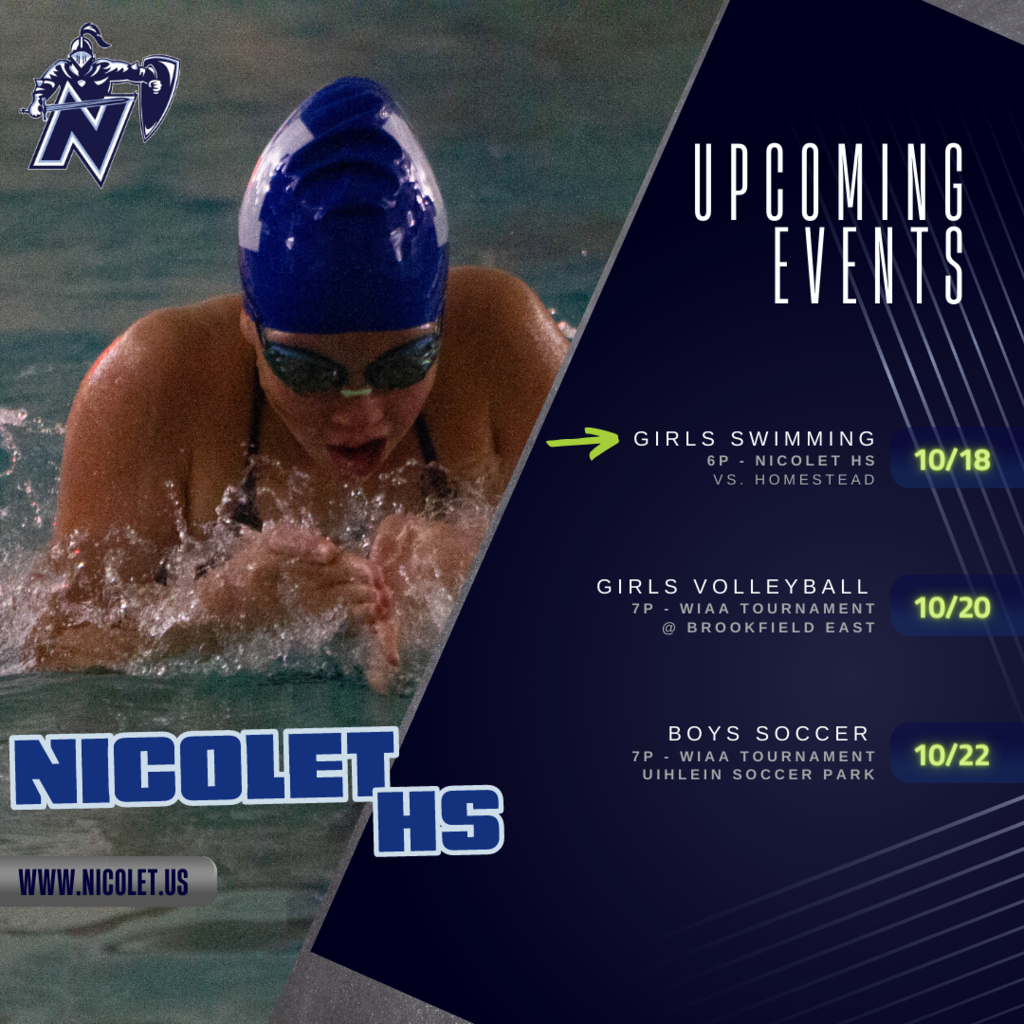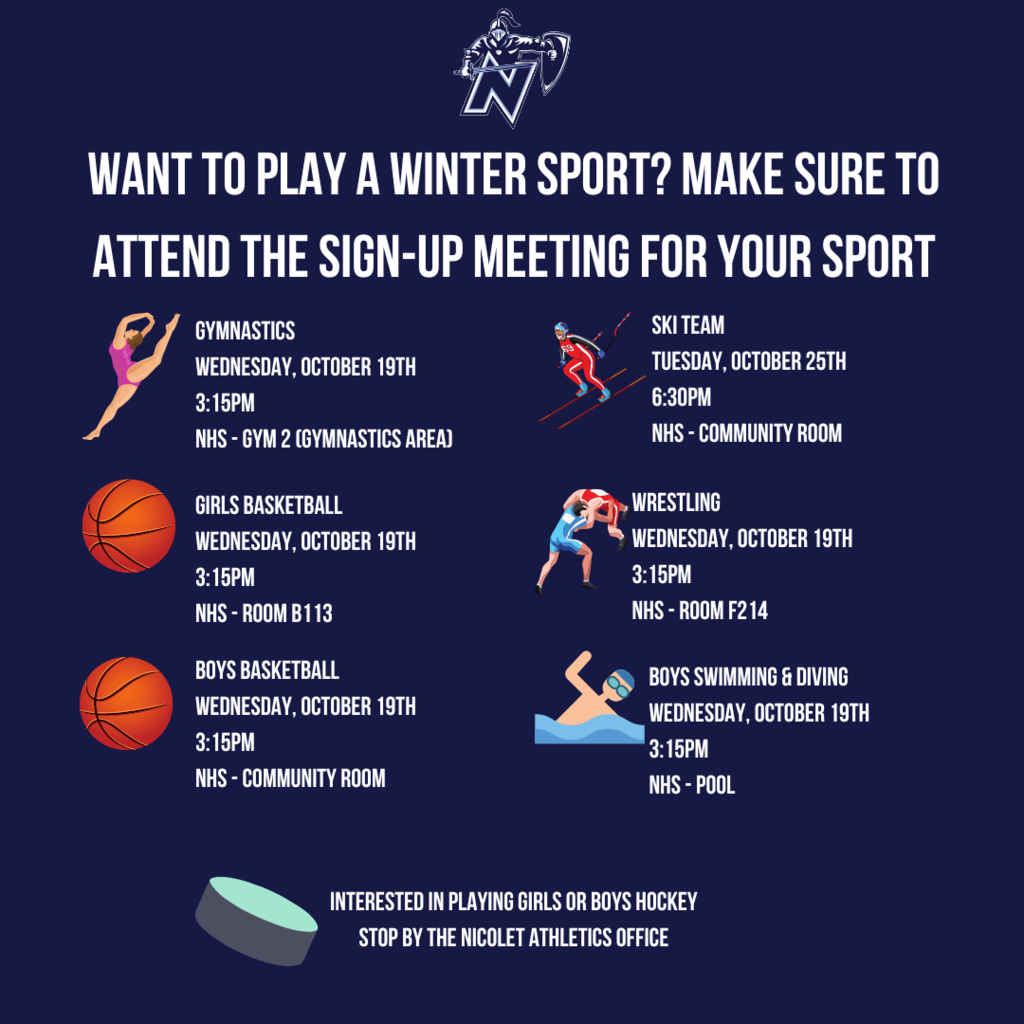 Homecoming Week in 1982 included a parade, spririt days, a rope pull, pie eating contest, dance and the first Homecoming Game played at night!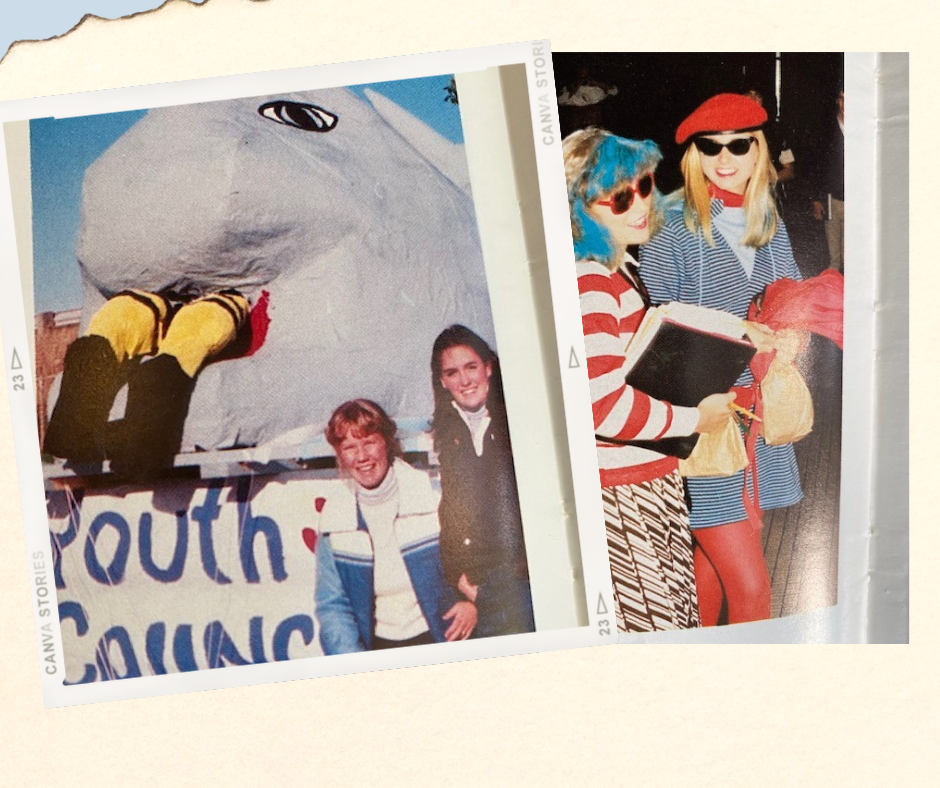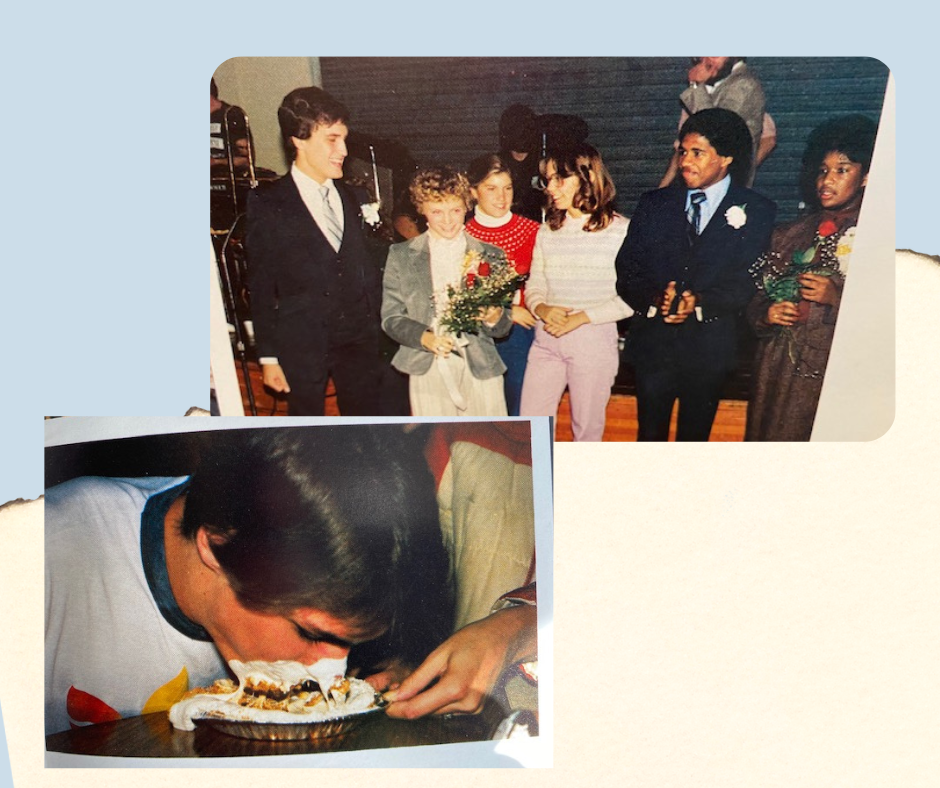 Here's the answer to today's trivia question: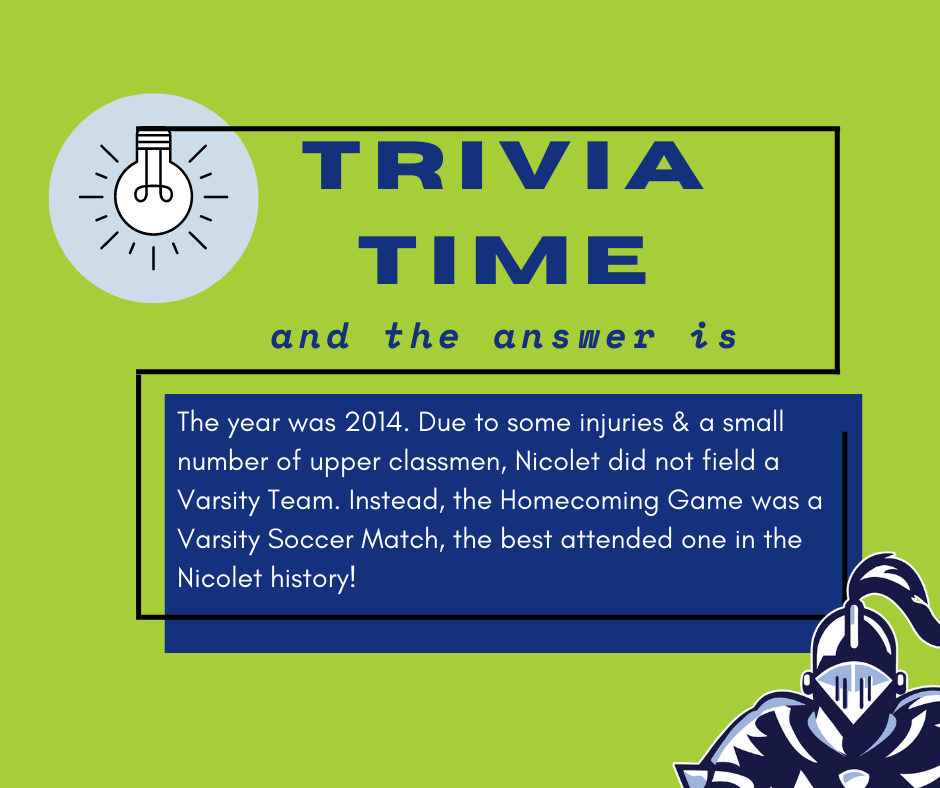 Here's today's Trivia Question: